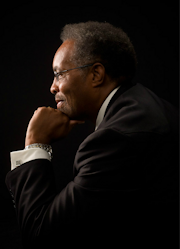 Paul Buntyn was the fourth of eight children born to William and Bernice Buntyn on August 12, 1948 in Harlem, New York. However, Pastor Buntyn and his siblings were raised by his grandmother, Emma Lee Buntyn. His foundational training in ministry was done through many faithful years of service at the Mt. Olivet B.C. in Manhattan, (Harlem) New York. He graduated from the New York public school system as an aviation mechanic in 1966. Having played in the famed Rucker Basketball Tournament; he was recruited to attend Maryland Eastern Shore University on a basketball scholarship. However, this was interrupted by another recruiter: the draft into the United States Marine Corps. While serving a tour in Vietnam, Pastor Buntyn was engaged in combat where a single gunshot wound to the head left him paralyzed from the neck down. Through this tragedy, Pastor Buntyn experienced the miraculous healing power of God. Because of his service to his country, Pastor Buntyn was awarded two Purple Hearts, the Vietnamese Citation of Valor, a Bronze Star, and an Honorable Discharge from the Marine Corps.
After seven years of therapy and rehabilitation, Pastor Buntyn graduated from the Manhattan Bible Institute in 1983, extensively trained in evangelism. Afterwards, he enrolled in St. John's University to pursue a degree in Special Education, until God supernaturally uprooted him from New York to San Antonio, Texas. He later transferred to Incarnate Word College where he graduated with Bachelor of Arts degree in Special Education in 1991. Pastor Buntyn also attended Oral Roberts University, where he is working toward a Masters of Divinity degree.
Pastor Buntyn served as a Youth Minister at the Shiloh Baptist Church in San Antonio, Texas for two years, upon his moving to Texas. In 1988, he was called as the pastor of the Greater Bethel Baptist Church in San Marcos. He served there for five years, where the congregation experienced growth spiritually and numerically. Pastor Buntyn established and taught powerfully on the Holy Spirit and the importance of praise and worship to God, in the worship experience. Members of the church experienced that individuals could have a real and close relationship with their Savior, Jesus Christ.
In April of 1993, God moved him to start a new work of the Kingdom by beginning the Abundant Life Christian Church. The assignment of the church is to create an atmosphere of spiritual significance to the glory of God, in the community, through Pastor Buntyn's unique style of preaching and teaching. Also, Pastor Buntyn created a non-profit organization to deepen our calling for youth of all cultures, and open doors for people who are under-served, to increase their understanding of economic, social, and educational empowerment. Thus, the Alternative Life Moving Strategies (ALMS), Inc. was created as a community development corporation to address these needs.
Pastor Buntyn is married to Jo Ann (Queen) Buntyn and they are the proud parents of six wonderful children. The ministerial highlight to this date is the purchasing of 64.68 acres of land to build an accredited Christian school and seminary for developing disciples for ministry; a Drug Rehabilitation Center; and, a facility for educating the homeless. With the addition of laborers to this dynamic move of God, it is promised that nothing will be impossible for us to do.